Filip Benesovsky and friends
O2 arena
Prague 31. 10. 2009 - 19:00
The Wall 2009
November 30, 1979 is the date remembered by all diehard fans of the British Pink Floyd. Their probably the most popular album The Wall was released. Regrettably, the concert form of The Wall was seen just in four cities (London, Los Angeles, New York, Dortmund) because of its exacting presentation and organization –e.g. the cardboard wall was built during the performance. Even though The Wall was finally filmed, the record of the live concert actually does not exist.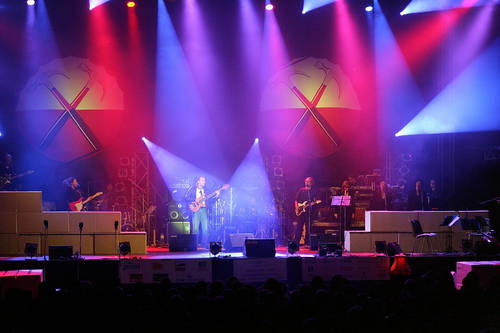 30 years later Filip Benešovský comes with this spectacular project. It is going to take place in O2 Arena in Prague on October 31. The Wall 2009 is supposed to be the most ambitious and demanding project appearing on the musical scene of this year.
The band numbers about 20 musicians, it includes not only modern electric instruments, but also strings and brasses. Another indespensable part of the show is the children choir.
Among those who are invited to honour this monumental musical piece dealing with the matter of the human ugliness are these special guests: Michal Malátný (Chinaski), Jan Neckář (Bacily), Zdeněk Kluka a Roman Dragoun (Progres 2) or the czech rock guitar star Radim Hladík).
The performance is provided with quadrophone sound rotating round the concert hall, giant breeze-blocks, many stage properties, film shots, czech titles and numerous dramatic scenes… Simply, it is going to be really a unique and unrepeteable audiovisual experience. Naturally, the arrangement and preparation of the show is going to take several months.