Filip Benesovsky and friends
O2 arena
Prague 31. 10. 2009 - 19:00
News
Dark Side of the Moon will be performed at the Bílina ice stadium. Michal Malátný will appear as a special guest
The group of musicians led by Filip Benešovský has performed the Pink Floyd The Wall show seven times now. In 2009, the audience in the sold-out Prague O2 Arena experienced so far the last of these concerts, which included a number of A-list guests such as Michal Malátný (Chinaski), Jan Neckář (Bacily), Radim Hladík (Blue Effect), Zdeněk Kluka and Roman Dragoun (Progres 2) or Harry Waters, the son of Roger Waters. The history of the Czech The Wall project goes back to 2002.
Since then, people close to Filip have also rehearsed and performed another great Pink Floyd classic, one of the most influential albums of all time – Dark Side of the Moon. It was the idea of the Kašpar brothers, Tomáš and Michal. "Dark Side" was performed live in the November of 2006 in Roudnice nad Labem, most of the musicians being the same ones who participated in The Wall project. Later, the concert was reprised with great success in Plzeň, Žatec, Litoměřice and in September 2011 in the Opava cinema Mír.
Now, the team of people associated by Benešovský is preparing the biggest indoor performance of Dark Side of the Moon in the history of the project. The show will take place on the 23rd of March 2012 at the Zimní stadion in Bílina (Bílina ice stadium). Michal Malátný, frontman of famous Czech band Chinaski, will appear as an exclusive guest after a three-year break.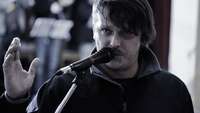 The show will have two parts, the first being "The Best of Pink Floyd and Roger Waters". After the intermission, the second part, the entire Dark Side of the Moon will follow. The sound will be quadrophonic (4.0 surround), which means the audience will feel as if the sound moved around the hall, there will be various props, videos with Czech subtitles, that will be screened during the concert, and even some small acting. It will take several months to arrange the unique audiovisual show.
The tickets are available for pre-sale at the Bílina Information centre (info@kckaskada.cz, 417 810 985) or on Ticketportal.cz. From the end of January the tickets will also be available on Ticketstream.cz